Are you a musician looking to mint your tracks on enter.audio? This guide covers everything from minting on Binance Smart Chain to applying to the Launchpad.
So you've heard about NFTs, or perhaps even sold them on other platforms previously. Maybe being on another network than Ethereum is a bit new to you? Getting set up on enter.audio and using Binance Smart Chain is just as simple when you first get the hang of it!


👀 enter minting fees?
We believe all artists should have the possibility to mint their NFTs, no matter their income. Therefore, enter take no fees or cuts of any minting on our platforms.
If you list your NFTs for $nftart, the only fee you need to consider is the BSC gas fee, which is usually less than $1.
Buy BNB directly on https://www.nft-art.finance, where you can also swap to $NFTART!
💡 New to minting on BSC?
Check out Binance Acadamy's guide on bridging to BSC from other networks here
All transactions on enter.audio operate on the Binance Smart Chain. You will therefore need a BSC compatible wallet, with a little bit of BNB to cover the transaction fee. The transaction fees are usually less than $1 for buying, listing and minting.
Applying to the Launchpad ✨


The Launchpad is free for all NFT artists to join. You can get started today by following these simple steps:


1. Connect your wallet in the top right corner

Remember to approve the transaction in your wallet. If you are using a mobile wallet, keep your wallet open on your mobile device during all transactions on enter.art.


2. Find the option to edit profile by pressing the top right circle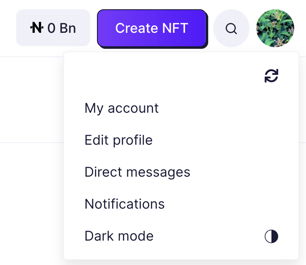 💡 Remember to save your username before applying to the Launchpad for a quicker onboarding process!

Usernames are permanent. If you for some reason need to change your username, please contact enter.help.

3. Become a creator
Before you can mint your NFTs on enter.art, you have to apply to the Launchpad through an application form. In the application process, we would love to see some verification of your art and identity. All art is welcome, as long as it's original.🎨
Apply to become a creator here!




When your application has been approved, you will receive an e-mail inviting you to get started minting your first NFT on enter!
See this guide for minting tips, tricks and troubleshooting 📖

💡 Just got your welcome e-mail, but still can't mint?
Try disconnecting your wallet by using the balance button next to Create NFT. After connecting your wallet again, your ability to mint should be active and ready to go!

Still having a bit of a hard time? Get help here!